General
Insurance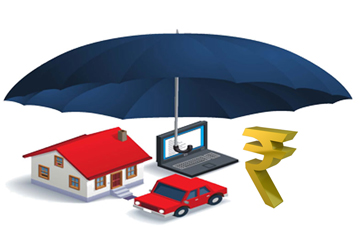 General insurance or non-life insurance policies, including automobile and homeowners policies, provide payments depending on the loss from a particular financial event. General insurance is typically defined as any insurance that is not determined to be life insurance.
Types of General Insurance
Motor Insurance :
Motor Insurance can be divided into two group, one is car Four wheeler insurance and other is two wheeler insurance.
Health Insurance :
Common types of health insurance includes, individual health insurance, family floater health insurance, comprehensive health insurance and critical illnes insurance.
Travel Insurance :
Travel insurance can be broadly grouped into Individual travel policy, Family Travel policy, student travel insurance and senior citizen health insurance.
Home Insurance :
Home insurance protects house and its contents in bad time.
Marine Insurance :
Marine cargo insurance covers goods, freight, cargo and other interests against loss or damage during transit by rail, road, sea and/or air.
Commercial Insurance :
Commercial insurance encompasses solutions for all sectors of the industry arising out of business operations
General Purposes of Insurance
These plans are best suited for people aged upto 35 years as it provides higher protection at low cost. These plans are also beneficial for a person whose income is low and want to secure their family from financial default in case of his death.Protection or safety (Term insurances)
Marriage or education of the child (Children plans)
Speedy growth of money & risk cover (Unit Linked Plans)
Saving and Protection (Endowment type plans)